Blog page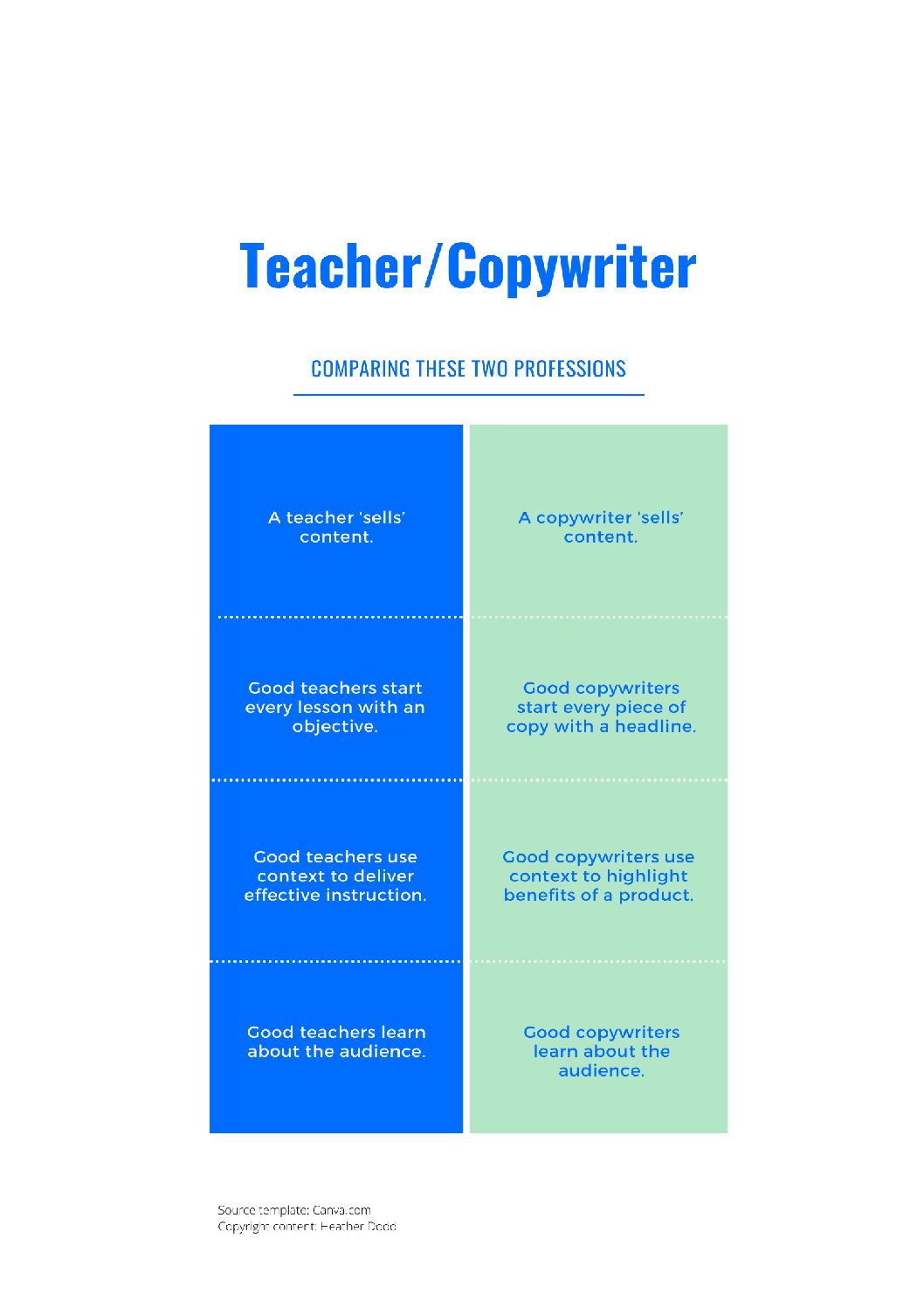 Quick Quiz: comparing copywriters with teachers
I put Heather Dodd's comparison of these two professions in an infographic. But, I left out four other things this teacher-turned-copywriter mentioned in her article on teaching and copywriting. Can you guess which four other things teachers and copywriters have in common? Write them down, and then click the button below. Or read Heather Dodd's article 'How I transitioned from being a successful teacher to a successful copywriter'.
There's always something right about your writing. But maybe you're not achieving the English-language targets you've set for yourself. As a copywriter-turned-teacher, I can help and support you in achieving your English-language communication goals. (I still write copy for businesses, but I have expanded my services to include teaching as well.)
This could be the right moment to sharpen your skills. I'm here to help you bridge the gap between Dutch and English. Feel free to call (+31(0)627104261) or e-mail (lesley@stars-tulips.com) me.
Besides my 20 years' experience as a professional copywriter, I am also qualified to teach English as a foreign language (CELTA English-language teacher). I have also completed a course for professional language trainers ('Opleiding tot Professioneel Taaltrainer' at the Language Partners Academy).
Copyright photo: Steve Johnson, Pixabay
Need easy SEO tips on how to write better product and service copy? Here are some helpful writing tips I received from Dutch SEO trainer Bob van de Vooren. This article handles the building blocks of good web copy. Much more is involved in writing for the web, but these tips will get you started. (more…)
You have a small rectangle in which to write a story. Your mission: fill this LED-lit object with simple and concise words that convert.
The stopwatch ticks.
Eyes focus on the centre upper half.
Just like an agile whitewater rafter in the Grand Canyon, your (first) words manoeuvre and propel them further. Over the next paragraph, and the next.
Until they reach the finish line.
A finger presses a button.
Whew. Mission completed within eight seconds.
I follow a number of copywriters and one of them is well-known American copywriter Bob Bly (www.bly.com). I certainly enjoyed Bob's last piece on "Should you write your own copy?"
Do you have an awkward feeling that your website's keyword phrases¹ could be better? Can your target audience easily find your website?
Looking for some handy tips? Well, I am certainly game for any new SEO (Search Engine Optimization) copyediting or writing² suggestions. In creating the right keyword phrases, SEO consultant Jill Whalen's advice is to think like a reporter. In her handbook "The Nitty-gritty of Writing for the Search Engines" she advises SEO copyeditors to ask the questions reporters do (who? what? where?). Why? Because the answers to these questions are often the keyword phrases you are looking for. (more…)
It might not have grabbed your attention, but apostrophe abuse has been in the news lately. After the results of an apostrophe survey were made public, blogs on the topic of the apostrophe surfaced once again. According to the survey carried out by IT firm SpinVox, nearly half of the 2000 UK adults tested were unable to use the apostrophe correctly.
Key to a successful global campaign is transcreation. Your translations should target the specific (local) market or audience. This handy five-step guide by Dina Paglia of Acclaro Inc. explains how to use global marketing translation to achieve this goal and more .
Leading US copywriter Richard Armstrong's Sea Turtle Rescue Fund letter is one of my favorite fundraising direct-mail letters. It's a compelling and convincing story about the plight of Florida sea turtles which unfolds on four pages.
The technique used is one you don't often see in direct-mail copywriting: drama. Armstrong describes it as a "little soap opera playing out right before your very eyes." Read this letter (www.sofii.org/node/591) and you'll want to donate to this fund.